OBTAINING A CERTIFICATE OF CONFORMITY ABOUT THE INCLUSION OF THE PSO "RODINA" IN THE REGISTER OF VERIFIED ORGANIZATIONS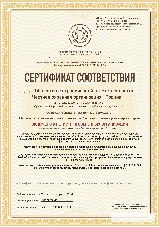 Dear customers, partners, and colleagues!
We inform you that the Private Security Organization "Rodina" is included in the Register of Verified Organizations, as evidenced by the Certificate of Conformity issued by the Supplier Certification Center of the voluntary certification system "The Register of Verified Organizations" on 11/23/17. We guarantee the provision of quality protection and conscientious duty performance of all employees. Your safety is our mission.